Buy now
Kopke Colheita Tawny Port 1978
VineThe rows of vines are traditionally planted across the slope in horizontal terraces. More recently vines have been planted up the slope (called "vinha ao alto", meaning vertically planted).

SoilSchist-sandstone (greywacke), interspersed with granite in some places.

HeightUp to 600 metres.


Grape VarietiesTraditional Douro grape varieties.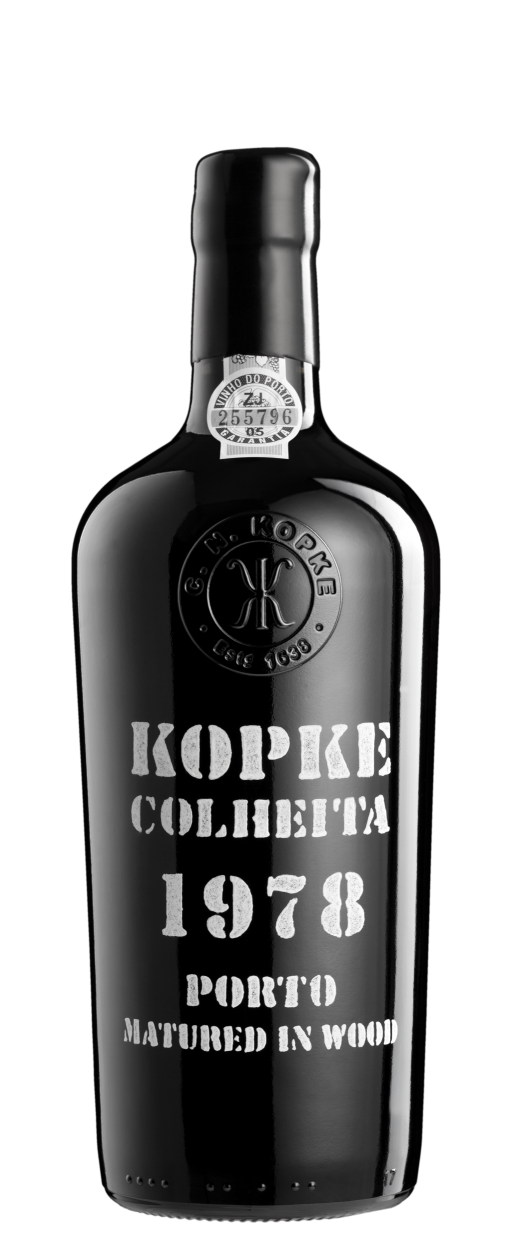 Technical Details
Alcohol

20,00%

pH

3,57

Total Acidity

5,36 g/dm3

Reducing Sugars

144,00 g/dm3
Technical Sheet
Crafting wine experiences
Since 1638
Taste history with the oldest port wine house.
Every wine tells a story. Kopke's Colheitas, however, tell a unique story. To taste a wine is to taste history and, in the case of this 1978 Colheita, it means remembering a remarkable event like the great fire that devastated the Museum of Modern Art in Rio de Janeiro, Brazil, destroying nearly the entire collection, including works by Picasso, Joan Miró, Salvador Dali, Max Ernst and René Magritte.
The wine should be stored in a cool and dry place, sheltered from light and temperature uctuations, and the bottle should remain in an upright position. Over time, it is natural that sediment will form at the bottom of a bottle of Port wine.
VINIFICAÇÃO E ESTÁGIO

Conheça mais sobre o processo

NOTAS DE PROVA

O DNA do vinho

RECOMENDAÇÕES

O melhor cenário para disfrutar
Colhidas à mão no seu ponto ótimo, as uvas são desengaçadas, esmagadas e vinificadas segundo um processo que assenta numa cuidada maceração com extração de cor, taninos e aromas das películas, complementado por permanentes remontagens durante a fermentação. Esta decorre em lagares, a uma temperatura controlada entre os 28- 30ºC, até atingir o grau Baumé desejado. Nesta fase, procede-se à adição da aguardente vínica (benefício), dando origem a um vinho fortificado. Vinho de elevada qualidade, proveniente de uma só colheita. Estagia em madeira durante períodos de tempo variáveis, nunca inferiores a 7 anos, sendo posteriormente engarrafado mediante as solicitações de mercado.

Cor tijolo, tornando-se âmbar na auréola. Sedutor nariz de especiarias, com notas de frutos secos a acentuarem o envolvente bouquet. Na boca revela-se harmonioso, untuoso, com estupenda estrutura. Um fabuloso Colheita que transborda elegância e distinção. Final complexo e persistente.

Ligeiramente refrescado, exprime toda a finesse e sofisticação quando combinado com sobremesas à base de caramelo, frutos secos e especiarias, como fondant de caramelo com geleia de maçã e gengibre, tarte tatin, creme brulée e queijos de média intensidade. Servir a uma temperatura entre 12 e 14ºC.
Awards & Honors
Decanter World Wine Awards 2016 - Silver

Concours Mondial Bruxelles 2008 - Silver Medal

International Wine Challenge 2016 - Silver

Concours Mondial Bruxelles 2016 - Great Gold Medal

International Wine & Spirit Competition 2016 - Gold Outstanding

TEXSOM - International Wine Awards 2016 - Silver

Sunset International Wine Competition 2017 - Gold

Decanter World Wine Awards 2018 - Platinum l 97 pts

Vinalies Internationales 2018 - Gold Medal

Robert Parker 2016 - 94 pts

Wine Enthusiast 2016 - 94 pts

Wine Spectator 2016 - 92 pts