Buy now
Kopke Colheita Tawny Port 1957
VineThe rows of vines are traditionally planted across the slope in horizontal terraces. More recently vines have been planted up the slope (called "vinha ao alto", meaning vertically planted).

SoilSchist-sandstone (greywacke), interspersed with granite in some places.

HeightUp to 600 metres.

Grape Varieties25% Touriga Nacional, 25% Tinta Roriz, 25% Touriga Franca, 25% Tinta Barroca

Wine MakerCarlos Alves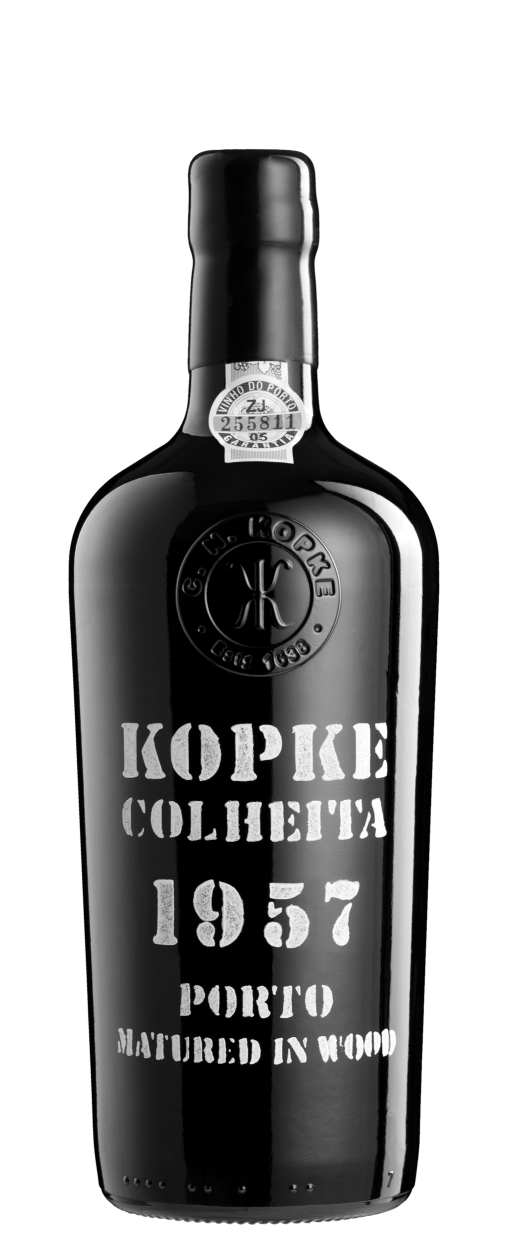 Technical Details
Alcohol

20,00%

pH

3,56

Total Acidity

5,73 g/dm3

Reducing Sugars

152,00 g/dm3
Technical Sheet
Crafting wine experiences
Since 1638
Taste history with the oldest Port wine house
Taste history with the oldest brand of Port wine. Every wine tells a story. Kopke's Colheitas, however, tell a unique story. To taste a wine is to taste history and, in the case of this 1957 Colheita, it means remembering a remarkable event like the signature of the Treaty of Rome, which established the European Economic Community (EEC).
The wine should be stored in a cool and dry place, sheltered from light and temperature fluctuations, and the bottle should remain in an upright position. Over time, it is natural that sediment will form at the bottom of a bottle of Port wine. To assure its full quality and flavour, it should be stored in bottle for as little time as possible, and should be drunk soon after purchase.
VINIFICATION
NOTAS DE PROVA

O DNA do vinho

RECOMENDAÇÕES

O melhor cenário para disfrutar
O processo de fabrico inclui a paragem da fermentação do mosto pela adição de aguardente vínica (benefício ou aguardentação), a lotação de vinhos e o envelhecimento. Fermentação em lagares com maceração pelicular e remontagens à temperatura de 29ºC até atingir o Baumé desejado, adicionando-se nesta fase aguardente. Vinho de elevada qualidade proveniente de uma só colheita. Estagia em madeira durante períodos de tempo variáveis, nunca inferiores a 7 anos, sendo posteriormente engarrafado mediante as solicitações de mercado.

Cor âmbar com brilhantes nuances aloiradas. Nariz complexo e delicado, onde se destacam os aromas resinosos bem integrados com notas de amêndoas, mel e laranja confitada. Paladar doce, elegante e equilibrado, bem envolvido pelas sugestões de caramelo. Final macio e persistente.

Ideal para acompanhar bolos de noz e amêndoas. Servir a uma temperatura entre 12 e 14ºC.
Awards & Honors
Japan Wine Challenge 2000 - Silver Medal

International Wine Challenge 2007 - Silver Medal

Revista de Vinhos 2008 - Prémio de Excelência

International Wine and Spirit Competition 2008 - Silver Medal | Best in Class

International Wine Challenge 2016 - Gold

Decanter Magazine 2013 - Gold Medal

Decanter Magazine 2008 - Silver Medal

Selection Mondiales des Vins 2008 - Silver Medal

Berliner Wein 2013 - Grand Gold Medal

Sommelier Wine Awards 2015 - Silver Medal

Concours Mondial Bruxelles 2015 - Grand Gold Medal

Concours Mondial Bruxelles 2016 - Great Gold Medal

Decanter World Wine Awards 2016 - Silver

International Wine Challenge 2017 - Port Trophy

Vinalies Internationales 2018 - Gold Medal

Wine Enthusiast 2016 - 95 pts

Robert Parker 2016 - 95 pts

Decanter Wine World Awards 2017 - Gold Medal

Sunset International Wine Competition 2017 l Best in Class

Sunset International Wine Competition 2017 - Gold Medal