Not Available
Winemaker's Collection Arinto Rabigato 2015
VineGrapes from the sub-region Baixo Corgo

SoilSchistose

Height250-300 metres

Grape Varieties80% Arinto 20% Rabigato

Wine MakerRicardo Macedo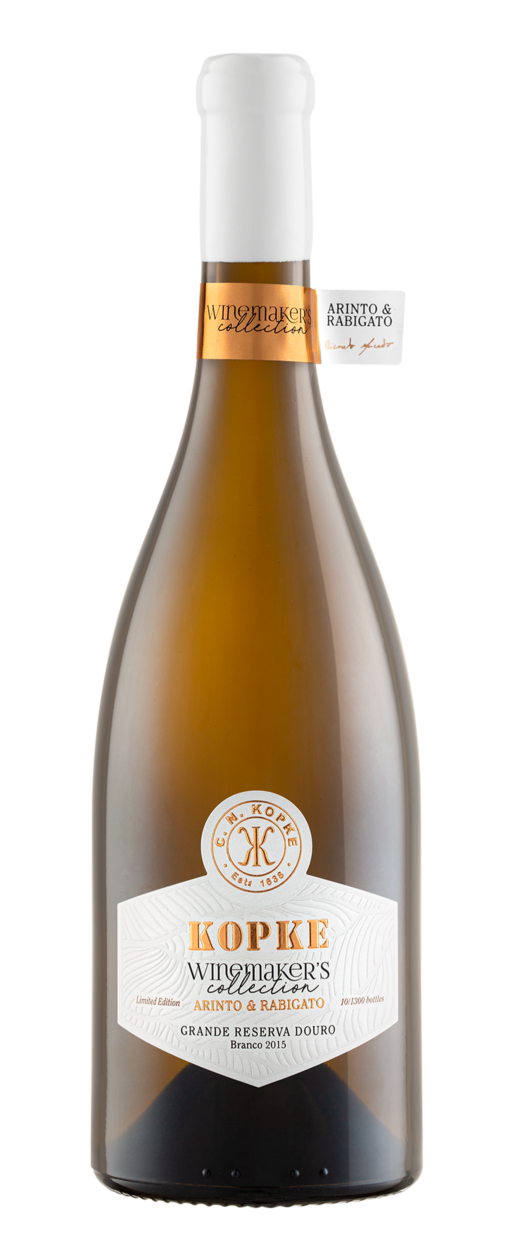 Technical Details
Alcohol

14%

pH

3,24

Total Acidity

6,1 g/dm3

Reducing Sugars

0,9 g/dm3
Technical Sheet
Crafting wine experiences
Since 1638
Grande Reserva Douro White 2015
The Winemaker's Collection is a selection of unique Douro DOC wines that will become a part of Kopke's portfolio. It is a collection of limited edition red, white or rosé wines, numbered and signed by the winemaker Ricardo Macedo. The first edition of this collection is the result of our research into white grape varieties of the Baixo Corgo subregion which began in 2015. The result is an engaging Grande Reserva, remarkably versatile and complex, ideal for wine lovers who enjoy complex and structured white wines.
The wine should be stored in a cool and dry place, sheltered from light and temperature fluctuations, and the bottle should remain in a horizontal position. Best served at a temperature between 12 - 14°C.
VINIFICATION AND AGEING
TASTING NOTES
PAIRING
Grown in the Baixo Corgo subregion, the grapes in this wine were harvested by hand at the beginning of September 2015 and carried in 20kg crates to the winery in Quinta S. Luiz, where they were again selected on the sorting table. After the clusters of grapes were pressed whole, the must fermented in French oak barrels of 300 litres, in which it matured until 2019. The final wine is a meticulous blend of selected wines, which after four years of maturation revealed the full potential of both grape varieties and the best expression of their terroir.

With an appealing gold colour with greenish hues, this 2015 Grande Reserva is remarkable on the nose, with aromas of candied grapefruit and apricot, against a spicy background of incredible freshness. Unctuous and intense on the palate, it shows remarkable structure and complexity, prolonged by its sharp acidity. A powerful and elegant white wine with a long and enticing finish.

Ideal with shellfish, oily fish, white meat and soft cheese.